Are Bamboo Fiber Tableware Reusable?
Tableware, a daily necessity that everyone can not live without.
People's understanding of tableware, whether it is still in people's common tableware materials: glass, stainless steel, ceramic, plastic...
All of the above are reusable tableware materials. With the development of technology, at the same time, global warming and further deterioration of the earth's living environment, countries have been strengthening the concept of sustainable development and adopting stricter production and consumption control on consumable plastics. So biodegradable environmental protection materials began to appear in everyday life.
Some of the consumers may have begun to understand the disposable environmentally friendly tableware gradually, but only in the disposable palm leaf tableware, and disposable paper tableware or other disposable tableware. However, disposable tableware, while bringing environmental protection, is also the loss of deforestation resources. And will bring more urban waste.
So, while realize the need for market development, LEKOCH's philosophy of environmental protection and love has led LEKOCH to play a key role in the development and research of new products.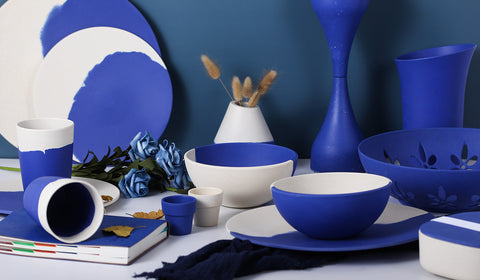 Reusable bamboo dinnerware sets --Lekoch New Products
Sustainability is LEKOCH is an important concept for development. We have combined this philosophy with biodegradability to have our new product - bamboo fiber tableware. We've been launched serious reusable bamboo dinnerware sets.
Material of Bamboo Fiber Tableware 
At this stage, the composition of bamboo fiber tableware in the market mainly consists of three kinds of raw materials:Bamboo fiber, dense amine, corn flour and other natural fibers.
0 comments