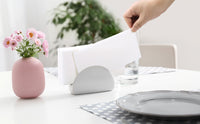 LEKOCH air-laid napkins provide the softness and absorb-ability of a cloth napkin, and the convenience of a paper napkin. It gives restaurants and hosts an reasonable way to provide a more sophisticated dining experience for their guests. Their biodegradability allows them to be thrown out with food waste making cleanup quick and easy. These napkins are absorbent enough to be used as a disposable hand-towel to be used after washing hands. They are softer than traditional paper towels, and are not as rough on skin.
Find More
Great product, used for a company holiday party to wrap silverware. Made for easy cleanup! My only complaint is the green smelt a little vinegar like. But I purchased the color red too and had no issues! Must be something with the dye used on the greens. Overall a great purchase! I would purchase again

Lightweight yet durable. Nice color and easy to hold
So I was very surprised at how lightweight theses dishes are. They really are gorgeous. The texture is a bit odd at first but I really like it. The finish is a really nice matte so they are easy to hold on to.
Its amazing set. Exactly what im looking for. I dont want plastic causr its feel and look cheap but bamboo is whole thing different. Its light weight and very high quality also looking.
I love these dishes. They are light weight and durable. Easy to clean. So glad I bought these.
So far we have used them twice. They are in our RV. Needed something reusable yet light weight and sturdy. I might need to order another set but so far the one set has worked for our family of 5. Easy to clean and hasn't held colors from foods. No weird smells or tastes from the product. Great buy!
Great quality product! Highly recommend.
I originally ordered this product because I was looking for a safe alternative to plastic. We have some nice ceramic dishes, but I would want to try bamboo fiber dinnerware. When the item arrived, I was super happy with the light weight and the size of each piece and, of course, I really loved the navy blue. Needless to say, I am a Lekoch superfan now and looking forward to trying out other Lekoch products for my family and friends.