LEKOCH 50 PCS Blue Luxury Large Disposable Paper Napkins, Linen Feel Party Decorative NapkinsWedding Napkins 40*40
LEKOCH Premium Disposable Blue Paper Napkins LEKOCH blue paper napkins are made of natural paper pulp, so it is uniform, delicate and healthier than other napkins. What is natural pulp? Natural pu...
customers are viewing this product
LEKOCH Premium Disposable Blue Paper Napkins
LEKOCH blue paper napkins are made of natural paper pulp, so it is uniform, delicate and healthier than other napkins.
What is natural pulp?
Natural pulp is completely natural wood pulp. Only raw paper pulp can be called natural pulp. In general, it contains about 80% or more fiber.

Blue napkins made from natural pulp are finer and soft with high flexibility.

Harmless and non-toxicthe , you can use them with peace of mind.
What is Air-laid Blue Paper Napkins ?
blue linen feel paper is a textile-like material categorized as a nonwoven fabric made from fluff pulp ( mainly wood pulp ). As a result, most products obtained through this method offer high absorbency. Compared with normal wet-laid paper and tissue, air-laid paper is bulky, porous and soft. It has good water absorption properties.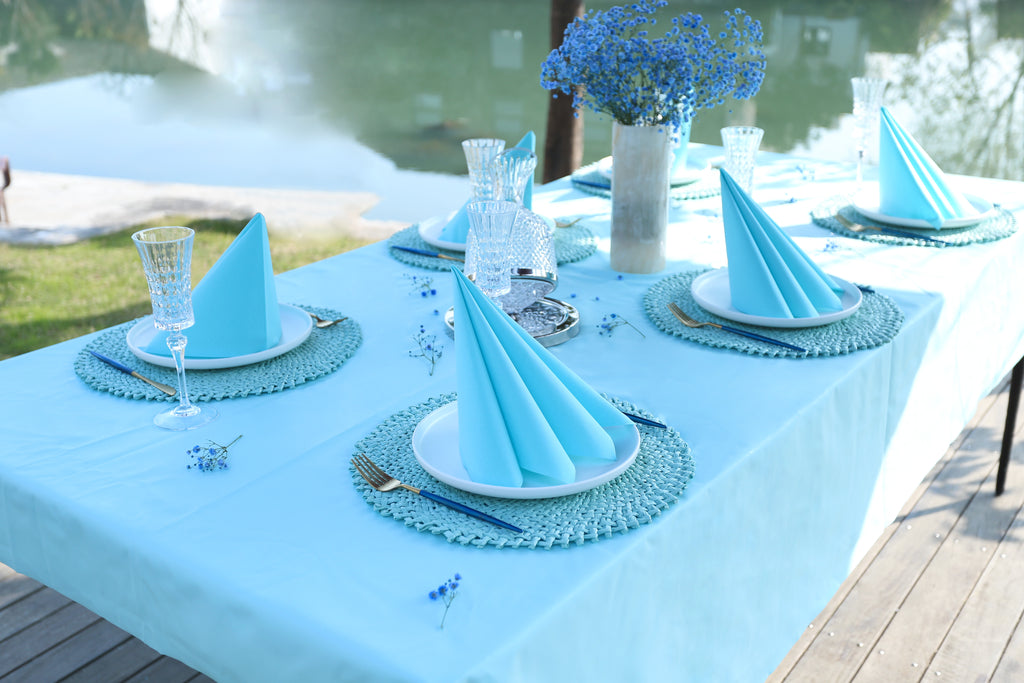 * REMIUM QUALITY RAW MATERIAL: Natural wood pulp is the pulp of completely natural wood, which is the highest quality of blue paper napkins. Only wood pulp used for the first time can be called the natural wood pulp. Usually, its fiber content is about 80% or more, so high quality blue paper napkins made of natural wood pulp is even, delicate and healthier.
* FLEXIBLE, COMFORTABLE, ABSORBENT: Natural wood pulp is mainly divided into Hardwood pulp and Softwood pulp. The hardwood pulp is shorter fiber and is softer, that can make the blue napkins more comfortable, but the strength is lower. The texture of the softwood pulp is longer and can enhance the flexibility of the blue napkins. Usually, the high quality blue paper napkins is mixed with two kinds of wood pulp to make it flexible, comfortable and absorbent.
* Large Size & Heavy-duty Disposable Baby Shower Napkins: Make your every guest feel special using these disposable blue large napkins, smooth and has a size of 40*40 cm.
* Practical & Convenient: Comparison using a regular table cloth napkin, these disposable blue napkins are far more efficient to use when you're having a big event. Could be Christmas napkins, wedding napkins, Party napkins, baby shower napkins. Hygienic and hassle-free which will leave your guests fresh and clean after having a great dinner at your very own home.
* Eco-friendly & Biodegradable: Our disposable blue paper napkins have a strong construction and made of a superior quality substance which you can utilize guilt-free. A must-have home essential that is at a great value for your money.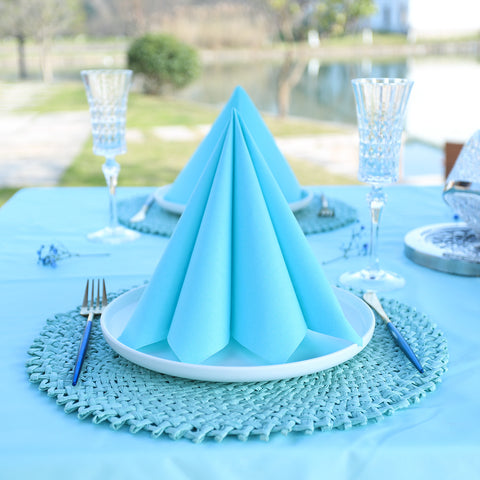 Air-Laid Blue Baby Shower Napkins with high quality
High flexibility: In restaurants, banquets, hotels, etc, it can be folded into different shapes, as an ornament, adds color to the table.

Excellent water absorption: LEKOCH blue napkins are free of moisture absorption and evaporation with a super absorbent, water speed and water volume.

The cleaning ability: Blue Paper Napkins have a very absorbing oil draining and cleaning capacity. With superior cleanliness, it is strong in oil absorption and dyeing.
Attention to detail is one key factor that separates good weddings from truly great ones, and creative napkin folds for wedding are the perfect example of how the littlest details can make a major impact. While paper napkins wedding are undoubtedly a necessary part of your tabletop design, their method of display doesn't need to be standard or plain. In fact, we think it should enchance the rest of the décor choices you've made.

From elegantly decontructured folds to crisp and contemporary paper napkins at wedding designs, couples are getting more creative with these dinnertime staples.

Whatever artistic direction you choose, a thoughtful napkin fold with lekoch disposable wedding napkins that matches your wedding's style will leave a lasting impression.

For the following table scenes with paper napkins at wedding:
wedding napkin folds Pocket
wedding napkin folds with rings
wedding napkin folds with menu
wedding napkin folds with sliver  

Lekoch rustic wedding napkins are here ready to fit your various wedding napkin folds ideas.